Lately, unicorns are all the rage. Because really, why not? Unicorns are colorful, creative and clever creatures that are easy to love and admire. So when your child suggests a unicorn party for his or her upcoming birthday extravaganza, you will be well-prepared. A unicorn party can highlight some of the greatest components of life: magic, whimsy, playfulness, and fun. So why not incorporate all of these things in order to create the most wonderful party of all?
And guess what…it all starts with the invitations.
Selecting a Unicorn Invitation that'll knock everyone's socks off…
What makes a good unicorn invitation? Perhaps it's best to ask, what do you think of when you hear the word "unicorn?" Usually color comes to mind, along with rainbows, and a majestic horse with a spiral horn. Choosing the right unicorn party invitation means finding the right one to provide your guests with their first glimpse into what this party will entail. If you're throwing a colorful, brightly decorated, wildly inventive shindig, then it is only right that your unicorn party invitation showcases just that. Take a look at a few of our favorite unicorn invitations and see for yourself.
Pretty Haired Unicorn Party Invitation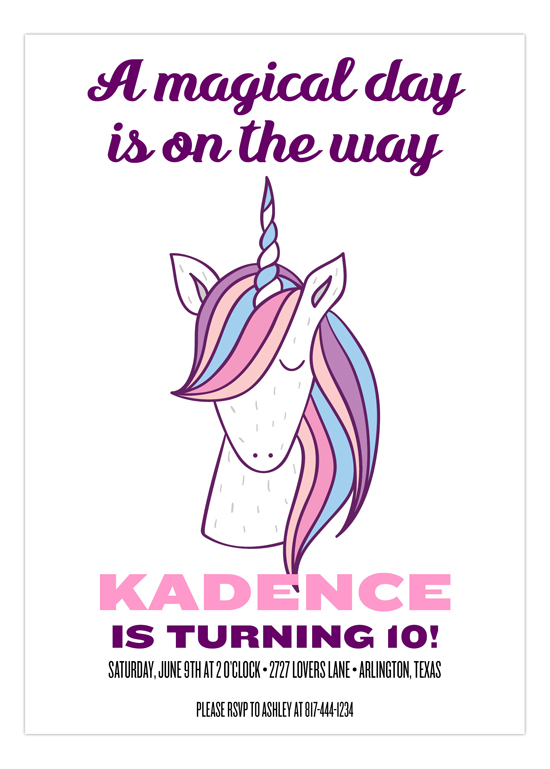 Lavender Unicorn Party Invitation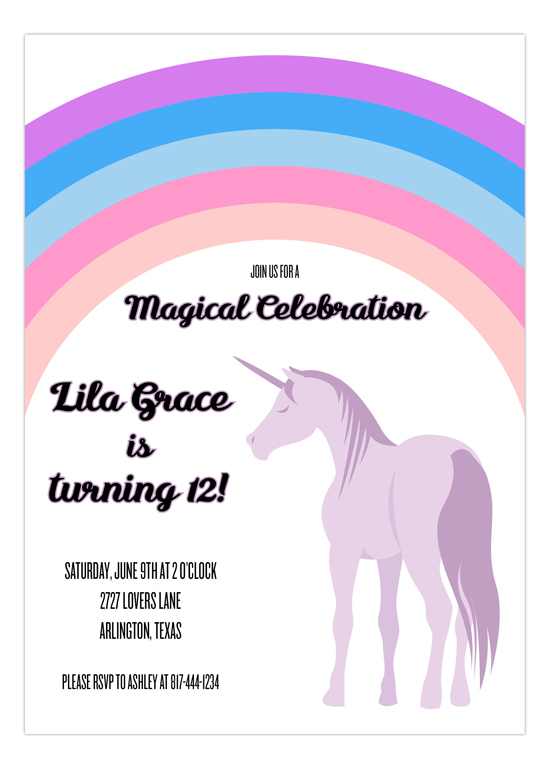 The decorations for a unicorn party are key…
One of the ways to elaborate on the theme of a unicorn party is through the decorations. Short of having a real, live unicorn there to celebrate (if such is the case then you've already won the unicorn party) the decorations are a way to liven up the place and make sure the unicorn theme is in every corner and crevice of the party. Balloons are a great way to add some magic to the mix. Colorful balloons or light pastel would be a wonderful accent. Keep the decorations light in color and simple. Confetti is a great way to decorate, too, as you sprinkle it around. Call it unicorn dust and tell kids it is the true sign that a unicorn was here!
Entertain the kids with some unicorn fun…
A fun way to incorporate the unicorn theme into a bit of party fun is by making a craft station where kids can create their own horns! Get some construction paper, glitter, paint, and crayons and add a bit of string to every unicorn horn made for kids to wear them around the party. Some other fun unicorn games can include Pin The Tail on the Unicorn, or a unicorn pinata filled with candy! A unicorn ring toss game can be set up outside, too, if the weather is nice.
Unicorn-themed food that is deliciously delightful…
An easy way to add a little bit of unicorn spirit to any birthday party is by including a magical unicorn cake. Maybe you've seen them on social media, maybe you've fallen in love at the local bakery. Unicorn cakes can become the centerpiece of your table and a talking point of the whole party. Of course, sweets might just be the key food component of this whole party which is why a unicorn cake or unicorn cupcakes work well. It'll add a bit of pizzazz to any unicorn theme.