Do you have a bundle of joy on the way? Perhaps a friend or family member has bestowed upon you the honor of hosting or throwing a baby shower for their little girl? Without spending too much time scratching your head over where to start, maybe you should consider throwing a Tickled Pink baby shower! Tickled Pink is a unique invitation brand featuring some of the sweetest, most darling baby shower invites around. Tickled Pink baby shower invitations are a great way to gather together loved ones to celebrate the new arrival, in a smart and sophisticated way. Start with the Tickled Pink invitations as the first step, and let us guide you to a baby shower event you'll never forget.
Start with the Tickled Pink baby shower invites…
The first step can be to choose the perfect baby shower invitation. Tickled Pink has a variety of baby shower invites for girls which feature simple designs, yet inventive style. Not only are these invites perfectly pink and ready to go, but they will leave a lasting mark on all recipients involved. With a more modern flair and unique approach, here are some of the Tickled Pink shower invites worth checking out:
Polka Dot Tickled Pink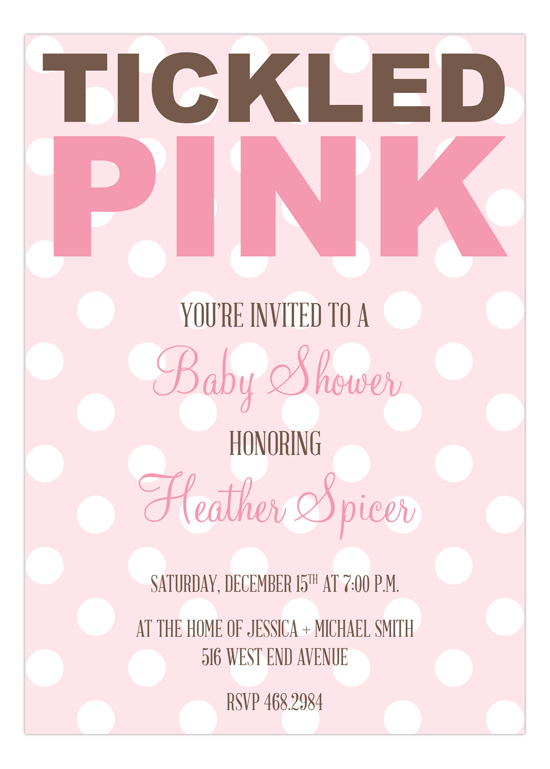 Big Bow Tickled Pink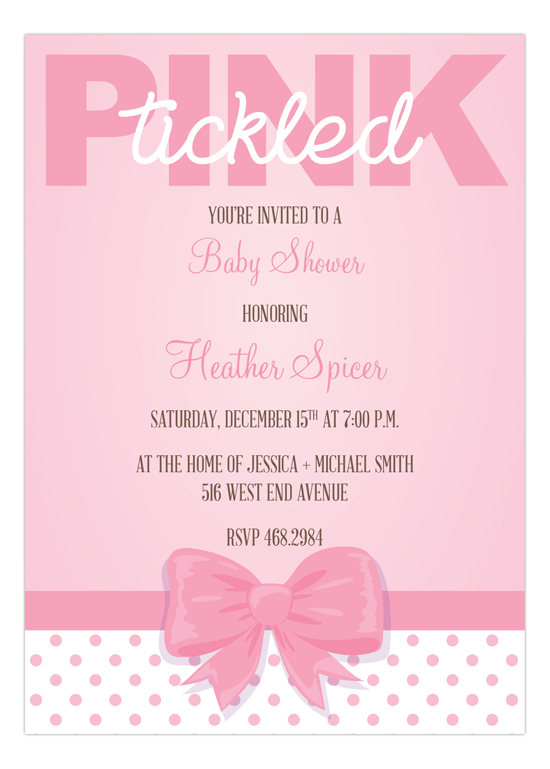 The invites will be the first experience that your guests will have to celebrate, so make sure that it is most memorable.
Next, choose the perfect decor to showcase the theme…
Sometimes a baby shower theme can be as a simple as "Pretty in Pink". Other times the theme can be obvious and detailed like a luau or fiesta party. The decor should always compliment the theme and vice versa. No matter the theme chosen, it is important to pick out the right decorations that can make the party a true celebration. Decor for a baby shower can also be gender neutral, if the parents are waiting on a gender reveal or if they simply prefer another color. Find the decor that will elevate the entire baby shower into a rightful commemoration.
Choose the menu to compliment your baby shower…
The baby shower menu for food and beverages does not need to be overly complicated. In fact, depending on the time of day the baby shower is thrown, the menu can be decided. For instance, a brunch baby shower can include breakfast-style foods, mimosas, Bloody Mary's, and coffee. Or a baby shower teat party can also be in order with all your favorite English Breakfasts, Greens, and Chamomiles. If the baby shower is being thrown closer to the afternoon, then a cocktail party or dinner party can also be considered. The menu can be as simple as a spread of h'or dourves and a beautiful cake.
Gather together a unique assortment of baby shower games.
Sometimes the games are what make a baby shower truly memorable. There are tons of baby shower games to choose from, whether they be tried-and-true games or unusually unique. Crafting a list of the perfect set of baby shower fun is a great way to laugh and allow guests to break the ice. Many party planners choose the "what's in the diaper?" game. But there are so many games to choose from, you can certainly stray from what's expected in order to create a more customized shower.
Baby shower planning should be a fun and exciting time. With these few steps, the process of planning a most memorable soiree will be simple and straightforward, not to mention enjoyable for all.