You've always known your little girl is a princess… Why not let her and her friends feel like royalty for a day with a princess birthday party? The princess party is a timeless favorite filled with beauty and enchantment. Best of all, it's an adaptable theme that can accommodate almost any age, location or number of guests.
Whether you're turning your living room into a castle or renting a party room for a royal ball, we have some suggestions to help throw a party sure to make your daughter and her guests' princess dreams come true.
Princess Party Invitations
Your little princess will want to summon her royal court with the perfect invitation. There are many wonderful designs to choose from, both whimsical and elegant. Consider sending a personalized photo invitation featuring a picture of your daughter in her finest princess gown complete with wand and crown or tiara. This is an excellent way to set the mood as well as inspire the guests to arrive dressed as princesses themselves.
When addressing the announcements, a fun way to include your guests in the theme is to add "Princess" to each of their names. Make it sound like a posh affair by including phrases in the text such as "Hear ye, hear ye," "Your royal highness," and "You are cordially invited to a royal celebration." Don't be afraid to be over-the-top… The more royal and official it sounds, the better!
If you're inviting boys to the party you may consider making it a mixed theme so they have the opportunity to dress up and play along. Princess parties work quite well with knights, frogs and even pirates… All it takes is a little imagination!
Princess Party Favors
Make your guests feel like royalty by showering them with princess accessories as they arrive. The girls are sure to adore costume jewelry and tiaras, white gloves, ring pops and candy necklaces, plastic clip-on earrings and feather boas or sparkly Christmas garlands. You may even consider setting up a miniature beauty parlor station where you apply age-appropriate makeup like lip gloss and blush. Give each princess a toy hand mirror so they can admire their transformation.
For headwear, try making cone-shaped princess hats ahead of time. Roll pink poster board or cardstock in cone shapes and fasten with strong tape. Attach a piece of yarn or ribbon to the bottom for the wearer to tie under their chin, and several strips coming from the cone at the top to look like a tassel. Or, cut the cardstock in the shape of crowns, paint them gold and fasten with tape or hairpins. You can even make an activity of letting the girls decorate their hats or crowns with glitter, sparkly stickers and glued or stick-on plastic gems and rhinestones.
Your princesses will need wands, as well! Simply cut cardboard or foam core in the shape of stars, paint pink or gold with sparkles and glitter and fasten to wood or plastic sticks or cardboard tubes. You can also buy styrofoam stars, spheres and other shapes at craft stores to decorate, or fasten multi-colored shiny ribbons to the top to make the wands look "magic" when the girls wave them.
Princess Party Decorations
When decorating choose colors like purple, red, green, silver and gold for balloons and streamers if you want a medieval flair. Pink and pastels colors are great choices and always welcome at parties for girls. Covering the floor with dozens of pink, white, silver and gold balloons make the room feel festive, and tying balloons into bouquets and twisting streamers are easy ways to give the party an elegant touch.
A red carpet leading up to the door will make your guests feel like royalty as they arrive. Use a table cloth or sheet that you don't mind getting dirty. Cover the doorway with festive balloons and streamers and hang a banner in medieval or gothic lettering reading, "Welcome to the princess party!"
Ready the table for the royal feast by sprinkling glitter, sequins and shiny ribbons on a pink or red tablecloth and covering it with another of clear plastic. Affix helium balloons to the back of your guest's chairs and make a throne for your princess by decorating a chair with ribbons and a velvet cushion or pillow. Strings of pink or white Christmas lights are a lovely way to give the room some ambience and draping purple, pink or red gossamer sheets over the walls and windows will make the room feel like a castle. If you're artistic, you can even paint large sheets of cardboard to resemble stone castle walls.
If you'd rather keep it simple, put up posters of fantasy landscapes and cartoon princesses. You may even want to buy a life-sized standup of your daughter's favorite princess character… Your guests will love having their pictures taken next to her!
Princess Party Activities
A grand entrance is one of the most important parts of the princess party, and every guest should be given a royal welcome. Ask another adult or one of her siblings to play the crier who formally announces each princess as they arrive. Read the names from a scroll to make it look official. You may also consider renting a bubble machine to delight the princesses as they enter, or even handing out bubble solution and wands to let the girls shower each new arrival with bubbles.
After dress-up time and which each of the girls is looking their princess best, have them walk up the red carpet to be crowned by the birthday girl. Afterwards, lead the girls in a princess parade around the house or yard sprinkling confetti and flower petals. This is a great time to take pictures!
There are many fun activities to keep your little princesses busy throughout the day. Younger girls will love "Mirror, mirror on the wall." To play, hide an adult behind a curtain and full length mirror, or tin foil in an old picture frame. Let the girls take turns asking questions and the mirror will answer in a booming, mysterious voice.
Classic party games are easy to adapt to the princess theme. Buy a piñata in the shape of a dragon or unicorn and fill it with trinkets and candies. "Hot Potato" can be played as "Pass the poison apple." "Pin the tail on the donkey" becomes "Pin the tail on the unicorn," "Pin the crown on the princess" or even "Kiss the frog," trying to land cut-outs of lips on the frog's mouth!
If the party is being held outside, play princess music and let the girls dance around a maypole. You can also hold a "tournament" of princess games, such as seeing who can walk the furthest across a thin board while balancing a book on their head.
Send the princesses on a treasure hunt by hiding foil-covered chocolate coins throughout the house or yard. Or, provide a box filled with fine sand or flour with plastic coins, costume jewels and rhinestones hidden inside. Let the girls take turns sifting through the sand, taking one treasure out at a time.
If you know someone who looks the part, you can have an actual princess at your party. Ask a teen or twentysomething relative or neighbor to arrive wearing a crown or tiara and a bright formal gown… Even the tackiest bridesmaid dress will look royal to a child. Treat her entrance as a momentous occasion, and the girls will love the opportunity to pose for pictures with their special guest!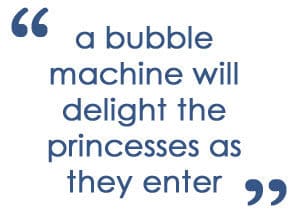 Princess Party Crafts
Art projects are always a fun activity at any children's parties. A great activity that fits the theme is to make hand-held fans. Let the girls draw fantasy scenes on one or both sides of colored construction paper or card stock. When they're finished, you or another adult will fold the drawings accordion-style. Tape together and wrap tightly with ribbon at the bottom, and spread the top to make a fan. These make wonderful gifts for your little princesses to take home to their queens.
You can also decorate small boxes as treasure chests. Let the girls paint the exteriors with non-toxic paints and cover the boxes with glitter, stickers and jewels. Use the decorated boxes as goody bags at the end of the party, or as containers for their souvenirs from treasure hunts the piñata.
Princess Party Refreshments
The refreshments are a very important part of the princess party and should be dainty, elegant and colorful. Tie napkins with gold ribbons and serve drinks in plastic wine or champagne glasses adorned with plastic gems, beads and sparkles to look like royal princess goblets. Or, have a princess tea party with pink lemonade or punch served in child-sized toy tea cups.
Use a cookie cutter to make delicate little "ladyfinger" sandwiches of strawberry cream cheese on bread, and to cut Rice Krispie treats in the shape of hearts or sugar cookies as stars. The girls will also love a hollowed-out pumpkin filled with dip and served with dipping vegetables like carrots and celery.
A princess deserves a beautiful cake on her special day. Buy or bake a cake in the shape of a castle or crown, or a more traditional cake adorned with scalloped edges, candy flowers and plastic princess figurines.
After the Princess Party
When the royal party comes to a close, send your princesses home with goody bags to remind them of their magical day. Use decorated boxes, velvet drawstring bags or pink paper sacks decorated with princess stickers as containers and fill with candy and trinkets like ring pops, pink jelly beans, chocolate coins and kisses wrapped in foil, bubble wands, sparkly hair clips and combs and princess stickers and sticker books. Don't forget to take plenty of pictures of your princesses to send with personalized thank you notes!