Have you ever just wanted to throw a summer party but didn't really have a reason to? Perhaps there was something about the warm weather, the cooler nights, the feeling in the air, a party just needed to be on your agenda. Yet, you couldn't quite find a reason good enough to go fortward with your plans. The next time you're feeling stuck for a reason to celebrate, let Polka Dot Invitations come to the rescue. While many party planners tend to start with the occasion first, we have 10 summer invitations that are so good you'll want to throw a party only after you see them. Here are our favorite summer invites in no particular order.
1. Pink Garden Invitation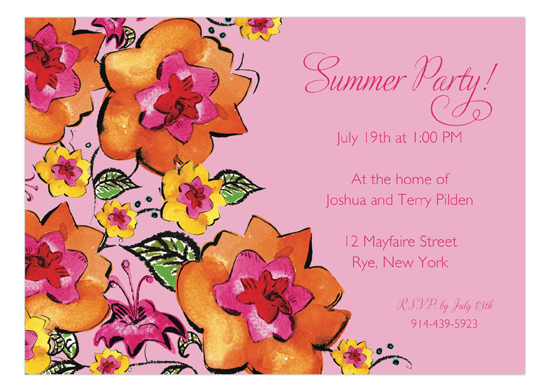 Summer usually means a bevy of colors and combinations that will brighten up anyone's spirit. The best part about the Pink Garden Invitation above is that it features a nice blend of pinks, oranges, reds and greens plus a customizable text that will make any sumer invitation pop.
2. Fiesta Swag Cactus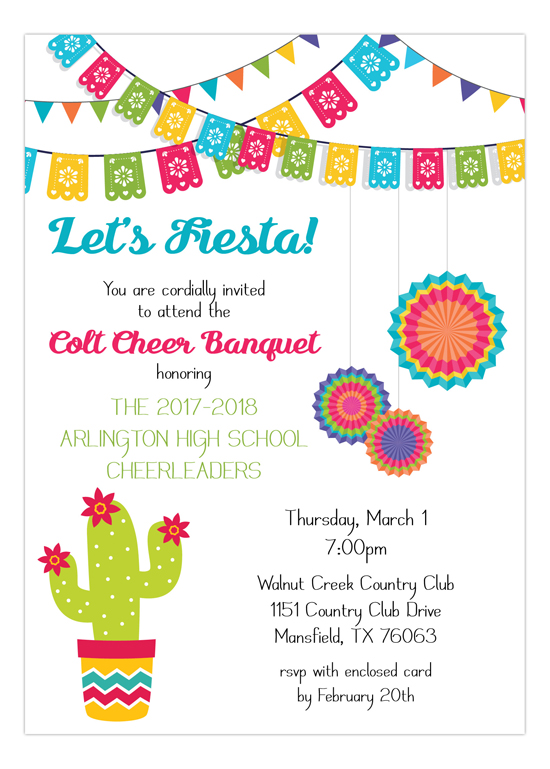 A Fiesta Party is one of the coolest ways to celebrate a summer occasion. If you're looking for a reason to gather together friends and family members for a Mexican throw down they will always remember, check out the Fiesta Swag Cactus. This summery invite not only chooses a theme for the party in advance, but will also let your guests know what to expect from the party ahead.
3. 99 Cents Old School Pool Party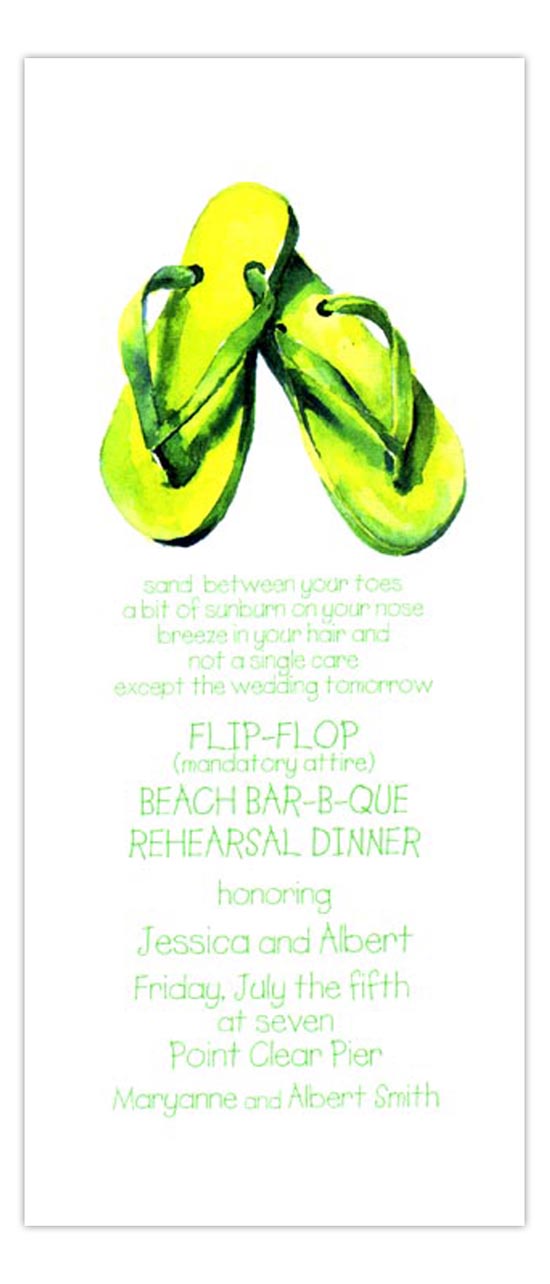 Just want to throw together a last minute summer pool party? Need a reason to have a shindig at the beach? The Old School Pool Party Invitation is a simple way to gather together friends and celebrate a summertime soiree. This is a no-frills invitation that can be used for a variety of occasions, from a backyard pool party to a park picnic. The options are endless.
4. Tropical Lanterns Invitation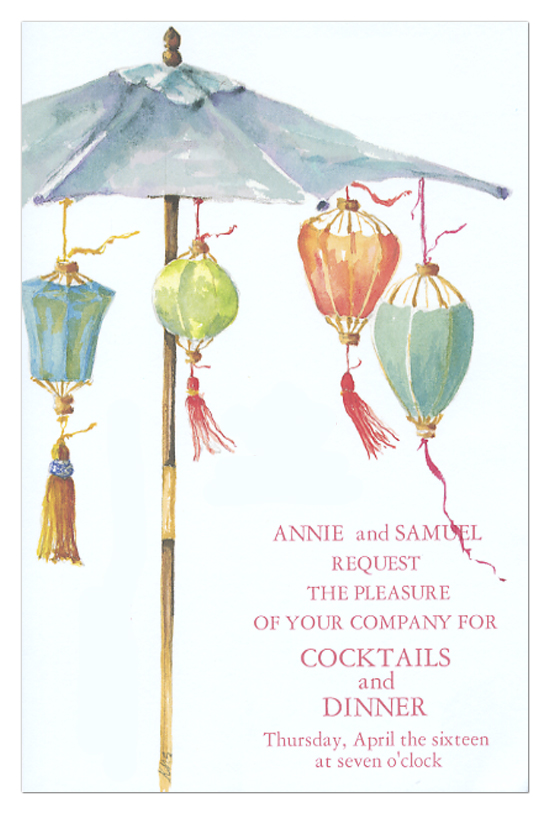 Summertime also means dinner parties. The weather is nice and the chance to dine al fresco is abundant. The Tropical Lanterns Invitation is a great way to gather together close friends and family for an epic night out dining under the stars. Just plan the menu, grab a couple bottles of wine and you're in business!
5. 4th of July Die-Cut Tie-Up Invitations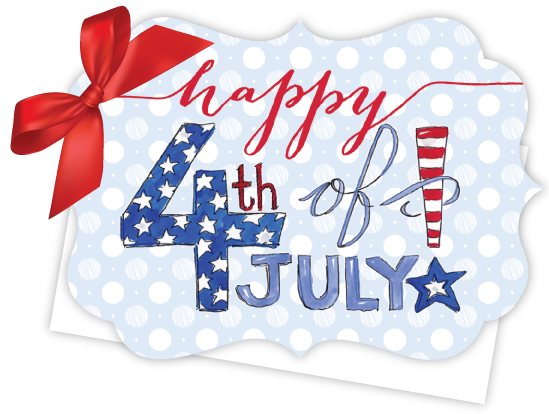 One of the most popular reasons to celebrate in summertime is for Fourth of July. Whether it be a backyard BBQ, pool party adventure or a chance to see some fireworks ignite the sky, this is your chance to gather everyone together and celebrate. The 4th of July invitation above features a die-cut design which makes it a one-of-a-kind invite, plus the tie-up feature adds another level of uniqueness.
6. Adirondack Chair Invitation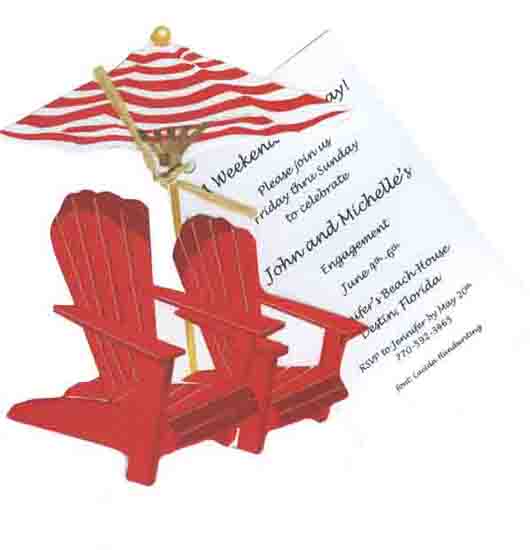 The Adirondack Chair Invitation can be used in a variety of ways this summer and for many different occasions. The red chairs are representative of a summer day under the sunshine, a light breeze blowing in the wind, and relaxation at its finest. Whether a garden party rehersal dinner or a weekend getaway with friends, these invites can fulfill any summer invite need you wish.
7. Backyard Grill Invitation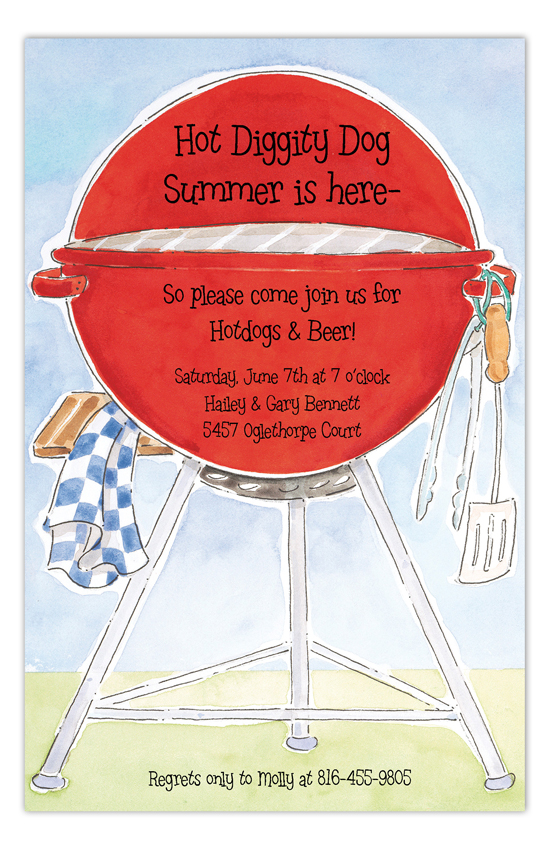 Summer means grilling. The weather is nice, the springtime showers have let up and this is the chance to get outside and grill some food. The Backyard Grill Invitation is a creative way to send out the message, with vibrant colors and illustrated designs. Keep it lighthearted and fun with this unique summer invite.
8. Dollar Invitation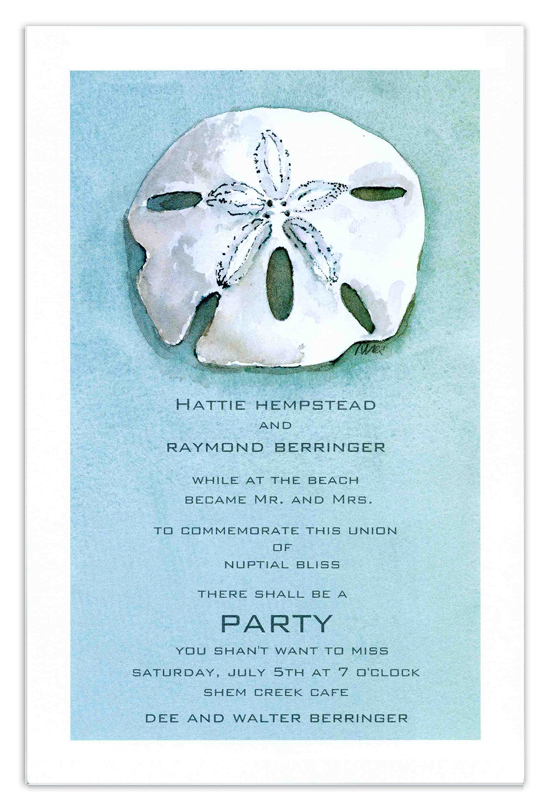 Planning a trip to the beach or a beach vacation getaway does not need to be a hassle or headache. Mark the summer meeting with the Dollar Invitation, which adds a bit of whimsy into a more chic and sophisticated design. This invitation can be used for a variety of summetime events, which makes the flexability that much more desired.
9. Beach Umbrella Pool Party Invitation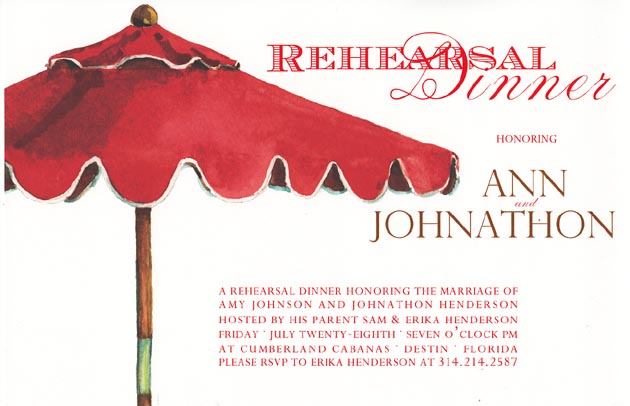 The Beach Umbrella Pool Party Invite adds a touch of class to any summertime gathering. Whether you're looking for a pool party rehersal dinner or planning a destination wedding on the beaches of St. Lucia, this is the invite for you. It is classic, simple in design, and can be customized however you see fit.
10. Beach Hat Pool Party Invitation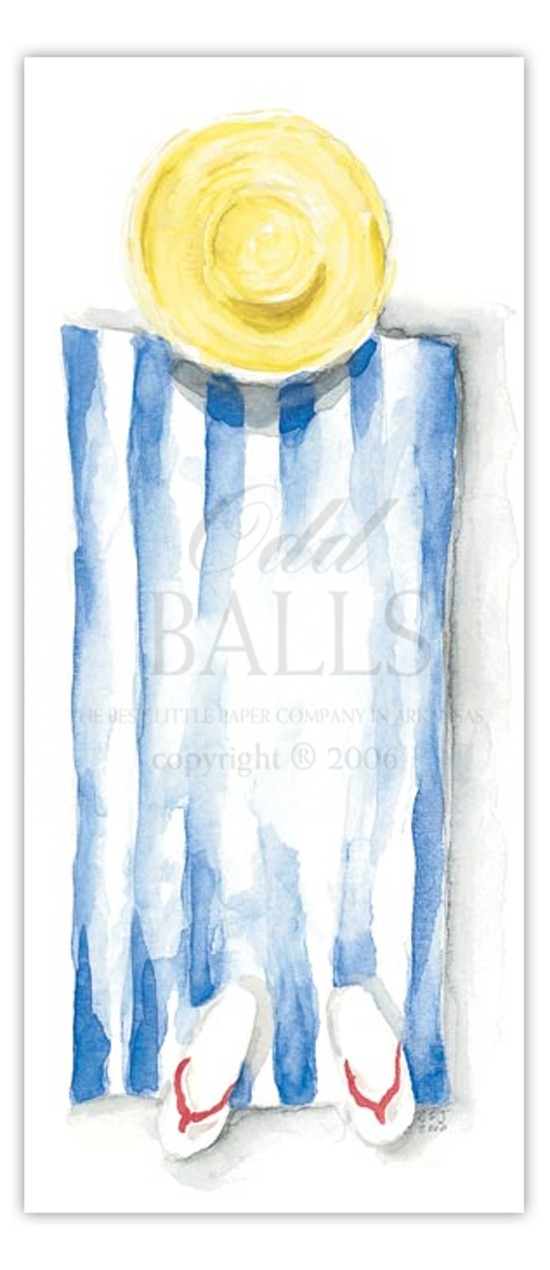 Keeping in theme with the beachside escapes invitation, the Beach Hat Pool Party invite by Odd Balls makes for a fun and fitting way to gather friends for a seasonal spectular. The watercolor designs in this invite level up the aesthetics, while not busying the front with text.
There are tons of uniquely beautiful summertime invitations that we carry at Polka Dot Invitations that will level up your next hot summer day or cool summer night.