Hosting a graduation party can be an exciting time, especially when the graduate is someone close to you. Graduating is a momentous occasion in every person's life and should be celebrated as such. But it is important to host an epic graduation party without getting in over your head or feeling the weight of party planning. This is why we've created a few simple and straightforward steps to help host the ultimate end-of-year graduation party.
Plan Ahead
It's always a good idea to get planning ahead of time, rather than put things off until the last minute. Planning ahead and at least getting certain things squared away will be able to give you some wiggle room and alleviate some of the headaches. When we say plan ahead, that doesn't necessarily mean you need to start in September when the graduation is in June. It just means that come April, maybe start putting together a list of people you would like to invite and share in the festivities. At the very least, plan ahead and make a solid decision on where you'd like to throw the party.
Choose The Right Graduation Invitation
Choosing the right graduation invitation is a great place to start in your party planning. Here at Polka Dot Invitations, we have a wide assortment of graduation invites ranging in style, color, design, and more. For instance, some of the most popular graduation invitation designs as of late are the photo cards. Invite your guests to the party in style with a photo of the graduate front and center. Or perhaps you want something filled with color and pizazz, but without it being busy. The most important aspect of the invitation will be that it provides the guest with the time and place of the party, which will need to be decided ahead of time. We have a range of invites to choose from that will elevate the excitement for the party tenfold. Take a look at some of our favorites:
Tassles and Dots Blue Photo Card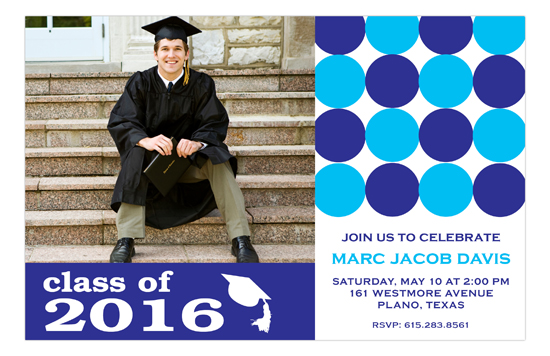 Turquoise Zebra Grad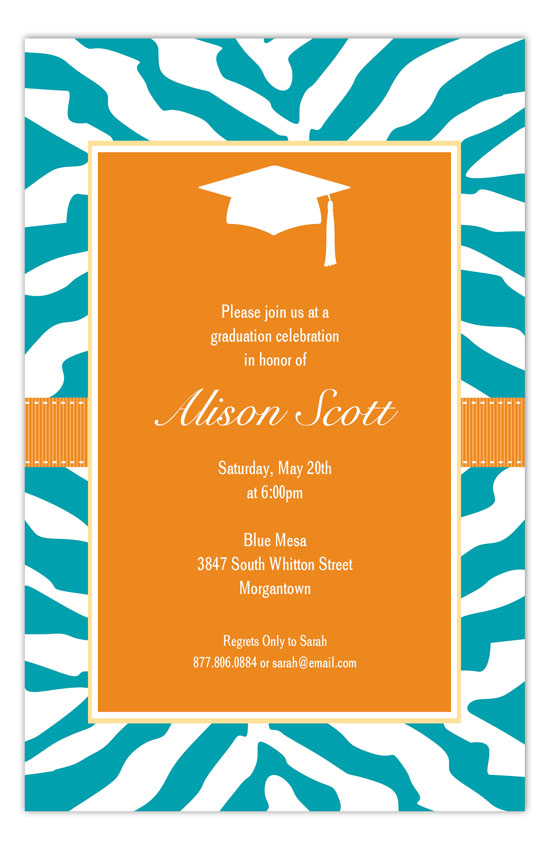 Confetti Graduate Invitation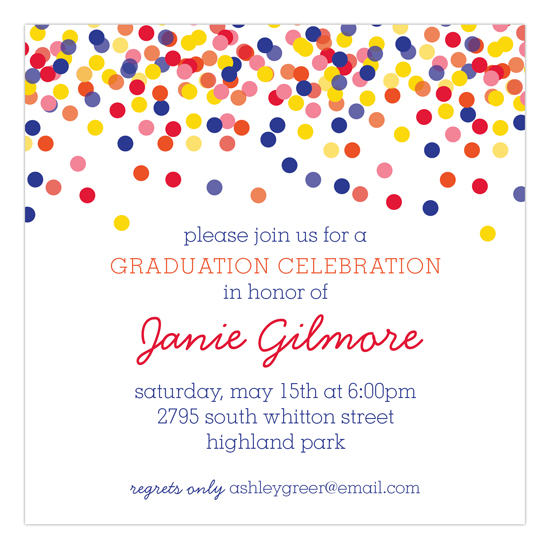 Pink and Orange Brocade Grad Photo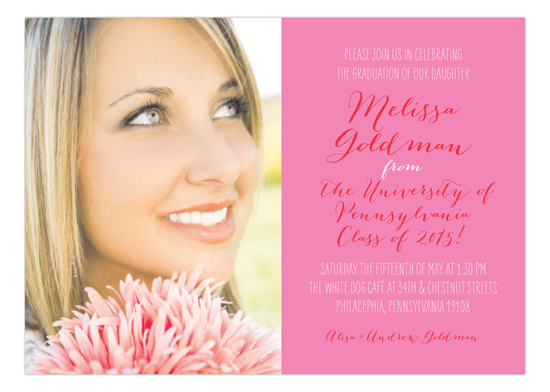 Choose Your Menu For Food & Drinks
There are a lot of options to choose from when it comes to feeding your guests. You can choose to make it a potluck party and have guests bring a dish from home, or you can choose to cater the party and not have to worry about cooking at all. The food for a party will generally depend on how many guests you choose to invite, so make sure you plan accordingly. You wouldn't want to have to cook for over 50 people and spend the entire party in the kitchen, right?
Decorations, Chairs, Tables & More
Decorations for a graduation party are always an inexpensive and festive way to jazz up the atmosphere. You can snag a few decorations that are graduation-specific from your local party store. But while you're also setting up the decorations, make sure you have enough tables and chairs for all your guests! One of the biggest problems that can occur in any party-planning event is not having enough places for guests to sit and chat and enjoy the afternoon. You can rent tables and chairs from a local party store or you can borrow some from friends and family. Just make sure that everyone has a place to sit comfortably.
Add All The Extras
Once you have the main aspects of the party figured out, it's time to add all the extras. Extras are considered things that might not be essential to a graduation party but could level it up. For example, adding a DJ could be considered an extra, or perhaps planning for other forms of entertainment. A theme for the party could be an extra form of decoration. Or a photo booth. The extras are not the main crux of the party, but they really can make the experience most memorable.