Planning a bridal shower is an exciting and enjoyable time for everyone involved. While the planning of the wedding can be quite stressful for the wedding party, as well as the engaged couple, the bridal shower is a more lighthearted occasion filled with laughter and love. We've decided to make the planning process even simpler with a few quick tips on how to plan a bridal shower. That's right, here at Polka Dot Invitations we're not just serving up some of the best bridal shower invitations around, but we're also taking things a step further in this planning process.
As Dreamed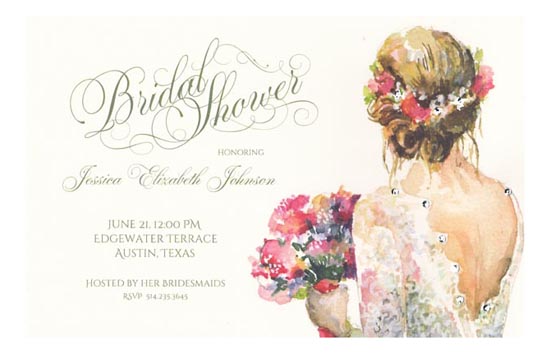 Choose the Shower Date
This is a great place to start. Making time for the bridal shower is important, and you'll want to allow yourself enough advanced notice in order to plan properly and make sure your guests can attend. Showers usually are held anywhere from 2 weeks to 2 months before the wedding, so really it's up to you and where you have some free space in your calendar to choose the day that fits you best.
Watercolor Pink Blossoms Invitation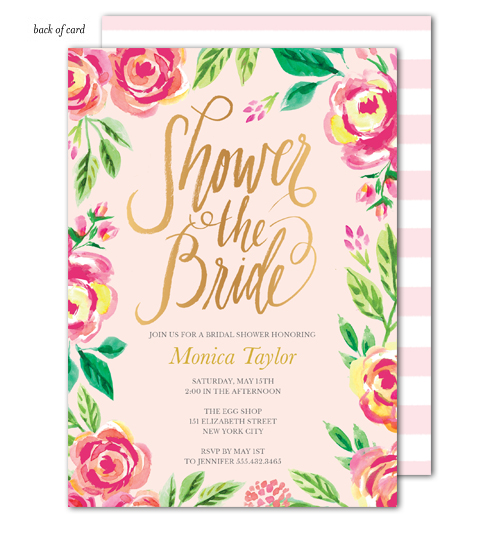 Create a Guest List
Before you can even settle on wedding shower invitations, you'll need to create a guest list. This means choosing the number of guests that you're comfortable with hosting, along with who those guests are. There really is no right or wrong way to create a guest list. Some women choose to keep things simple with a few close friends, while others go larger and invite as many of their friends, family, and acquaintances as they please.
Shades of Radiant Orchid Confetti Invitation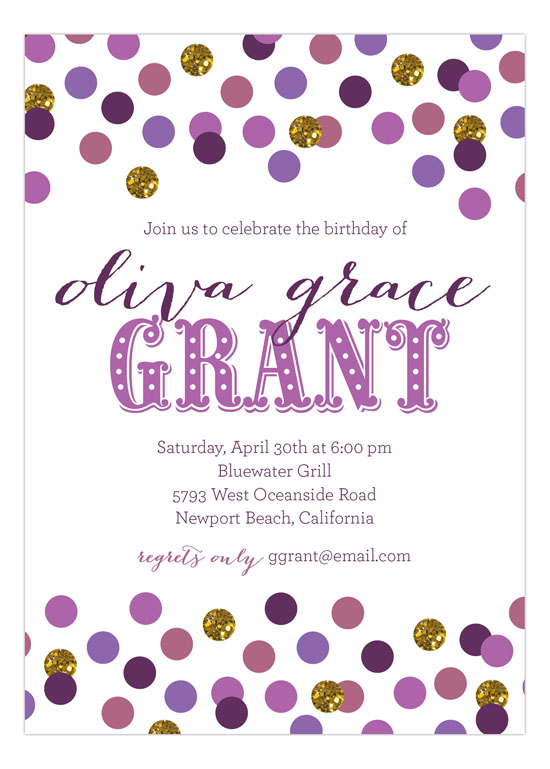 Pick a Theme That Fits Your Style
While you don't necessary need a theme for your bridal shower, many women find that it's easier to plan and decorate when there is a cohesive theme to follow. If you don't even know where to start with your bridal shower theme, then it may be a good idea to peruse our bridal shower invites, in order to get your creative gears a'movin. Our invitations feature a few different themes, which not only will get this task checked off your list, but probably also narrow down a few bridal shower cards, which leads us to our next step…
Pastel Package Invitation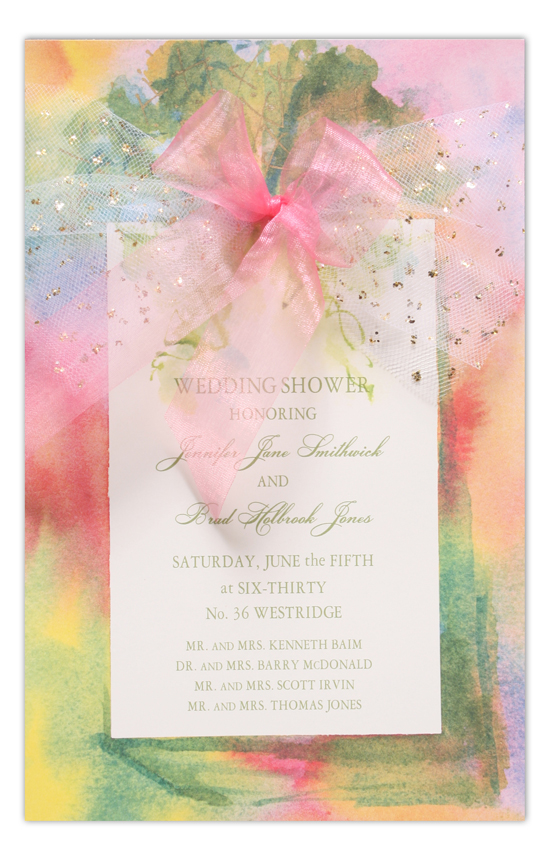 Deciding on a Location
Again, this can either be the comfort of your own home, or a venue of your liking. Choosing the right location for your bridal shower is dependent on how many guests you invite, as well as what your particular theme requires. For example a bridal luncheon will probably be held at a restaurant, while a bridal shower luau may be perfect in someone's backyard.
Bubbly Pink Party Invitation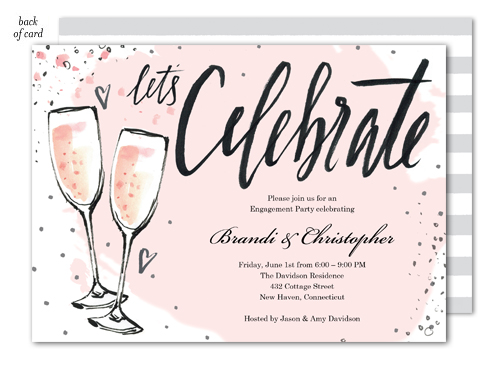 Choosing the Right Bridal Shower Invitations
Ahh, yes the bread-and-butter of Polka Dot Invitations. We're darn proud of our selection of invitations, as they can range from modern couples shower invitations to the more budget-friendly inexpensive bridal shower invitations. We like featuring a wide collection of unique designs and styles for you to choose from, so that you always have a plethora of options right at your fingertips.
Brunette Fiesta Couple Invitation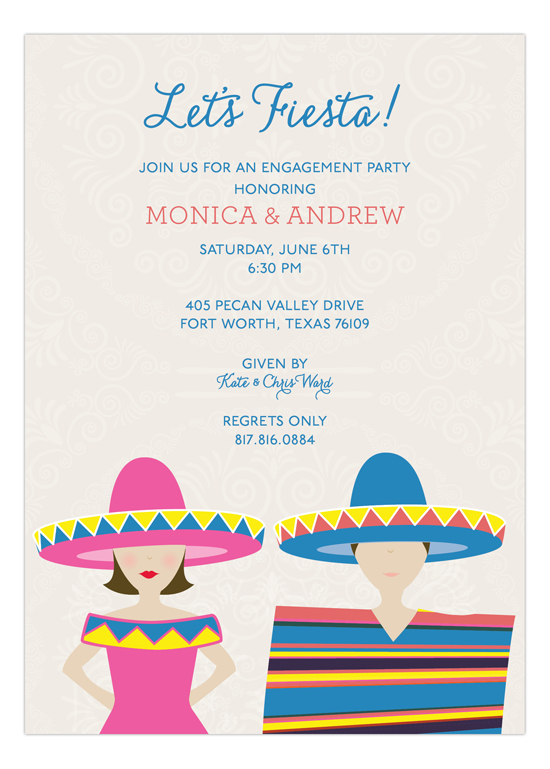 Preparing the Menu, Decorations, & Centerpieces
The final stages of the bridal shower are primarily for aesthetics. The menu, decorations, and centerpieces can be designed and chosen depending on what you've decided within the first few steps. Having a theme is absolutely helpful when you make it to this step, because you won't be overwhelmed with too many decisions and choices. Your menu, decorations, and centerpieces can all revolve around your theme, which makes preparation much easier.
And of course, the last and final step in planning your bridal shower…
Lingerie String Invitation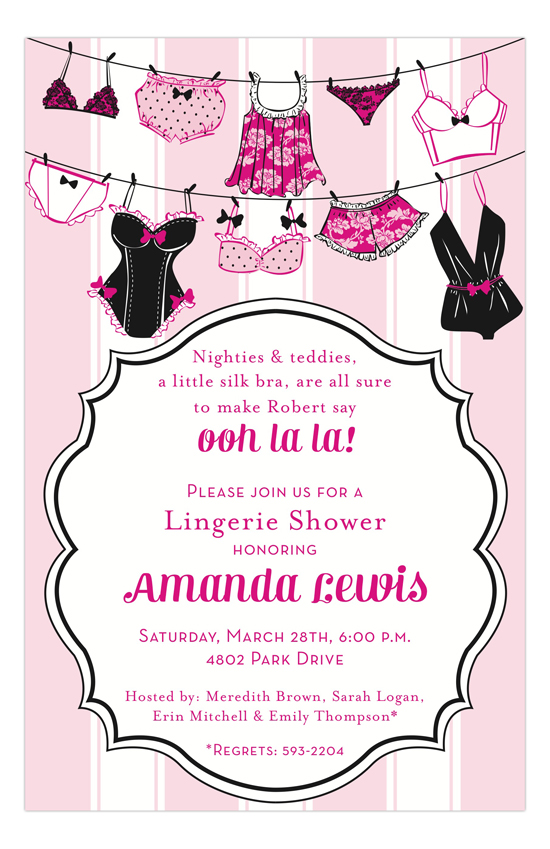 Enjoying the Festivities!
This is your time to celebrate. You've planned, you've made decisions, and you've created this beautiful day to honor your upcoming nuptials. Be proud of everything you've done, and enjoy the festivities with your friends and family.