Ahh, the First Communion. This time-honored tradition is an important moment in a child's life. Not to mention an exciting time for the parents! Hosting a First Communion can be a simple and straightforward experience with just a little bit of planning help. The ceremony itself will be held at the church, which already has one thing checked off the list. But what about the other fine details that come after the ceremony? Do you throw a party? Who do you even invite to a First Communion? What the heck do you wear?!
No need to worry or get ahead of yourself, Polka Dot Invitations is here. Let's start with the most important aspect of planning a First Communion: the invitations.
Choosing the right First Communion invitations is key…
A child's First Communion is a pretty big deal. In fact, this is a moment in a family's history that will bond them together in a very special and unique way. Which is why choosing the right First Communion invitations is key. Not only will the invitation for First Communion be the way that guests will be notified of the important day, but it will also be a special keepsake that family's can hold onto for years to come. The right First Communion invite can be an illustration of the moment whether that be floral and fun or sophisticated and traditional. Many planners tend to stick to a card that honors the religious solemnity of the occasion, while others want to breathe more life into the experience. There are plenty of First Communion invites to peruse that can get you started in crafting the perfect First Communion experience for the whole family. Here are a couple of our favorite invites for you to check out.
Shabby Chic Springs Blooms Floral Wreath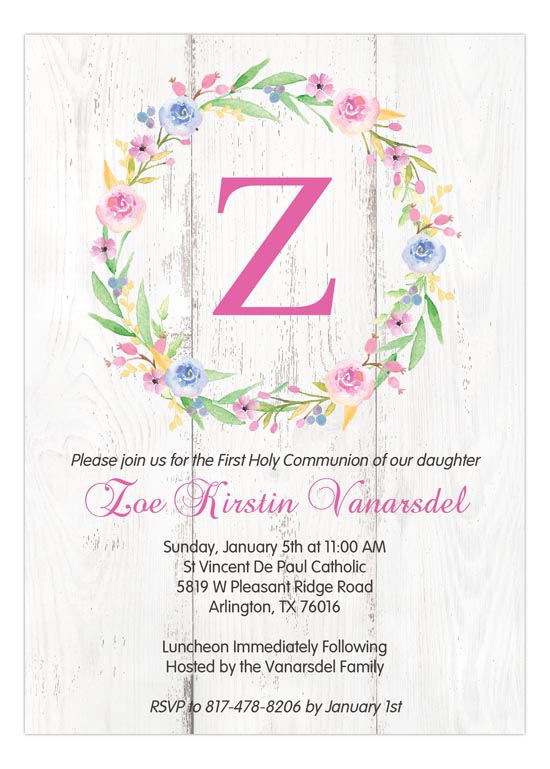 Purple Pink Faded Light Communion
Inviting the right guests to a First Communion celebration…
From the invites to the invite list, choosing the right guests to attend the First Communion is important. First Communion is generally a more intimate affair, especially since it begins in the church. The invitees who should be included in a child's First Communion include the godparents, siblings, relatives, grandparents and close friends. When considering whether or not to invite someone to the First Common, ask yourself if he or she will impact the child's life or religious development on a consistent basis. If the answer is no, then you can leave them out.
Choosing the right First Communion outfits…
Keep in mind the First Communion will be in a church, so usually your Sunday's best will apply for all friends and family members. However, the children participating will have to wear something a bit more specific. A First Communion dress or suit will be needed for the child, which can be found at any local bridal store, or online. First Communion outfits can range in price, so if you choose to spend a significant amount, rest assured, it is something that you'll save for memory's sake, or something the child can wear again.
Throwing a First Communion party…
While throwing a party for a First Communion is not mandatory, it is often a great way to acknowledge and mark the occasion in a very special way. Many families may choose to have their friends and loved ones back at their house, but some may choose to go out to breakfast or lunch after the ceremony instead. The decision will ultimately be up to you. If you prefer not to have to host or worry about food preparation or clean up and just want to enjoy the day, then going out to celebrate is a great idea. For those who don't mind having the party at their house, invite a few people to spend the afternoon eating, laughing, and celebrating. One thing to keep in mind for your party, whether out at a restaurant or at home, always make sure there is cake!
A First Communion marks a very special time in a child's life, which is why the occasion is celebrated with just a few simple steps.