With a never ending list of groceries to purchase, things to do, and tasks to tackle, it's no wonder that we often forget to pick up the dry cleaning. Instead of letting thoughts get away and errands fall to the wayside, why not snag one of our many uniquely designed
personalized notepads
to help keep life and lists on track?
Polka Dot Invitations keeps an impressive selection of custom notepads for all occasions! From birthdays and holidays to housewarmings and beyond, We have a little something special for everyone! Fully customizable, our
personalized stationery
and notepads make the perfect gift! Just select the design template that best fits the occasion, and then using our Polka Dot Invitations Studio, customize by adding the recipient's name in the font of your choosing. It's that easy!
Looking for a great way to show appreciation for that special teacher? We have just what you're looking for! Our Little Red Schoolhouse customizable stationary brings the best of form and function to an educator's desk, a useful gift that is sure to create smiles all year long! Our
planner pads
are also a wonderful way to help keep curriculum and assemblies organized!
Little Red Schoolhouse Notepad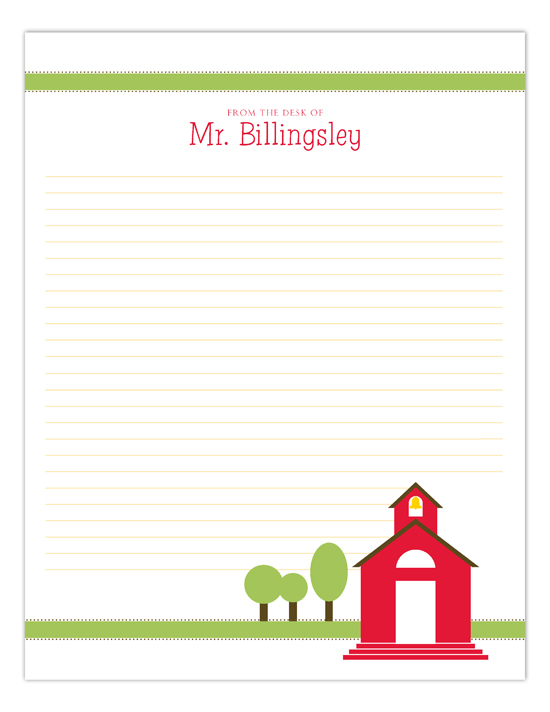 How about the animal lover in the family? We've got you covered! From dog lovers to that crazy cat lady, you'll find many exciting options in our stationery store. Not sure what to gift your pet sitter? With our wide variety of styles and designs, you'll easily find something for the vet, the dog walker, and the groomer as well!
Leopard Notepad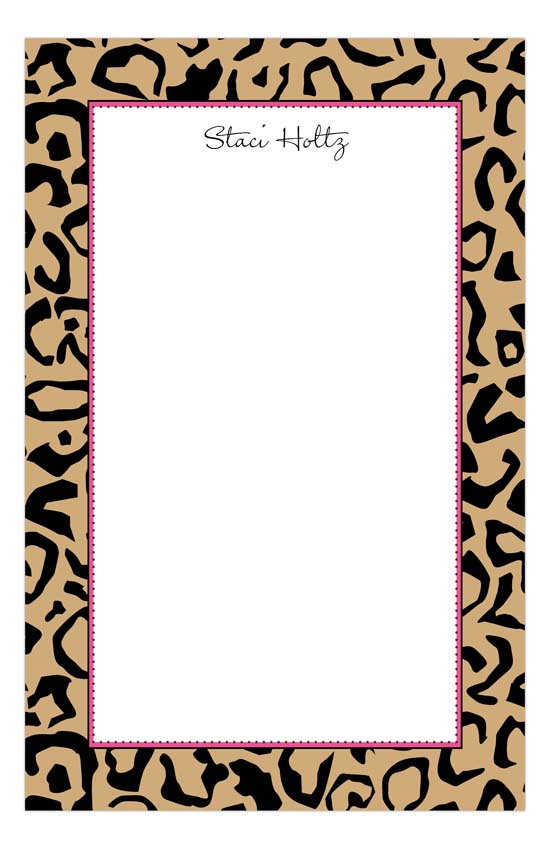 Paw Print Notepad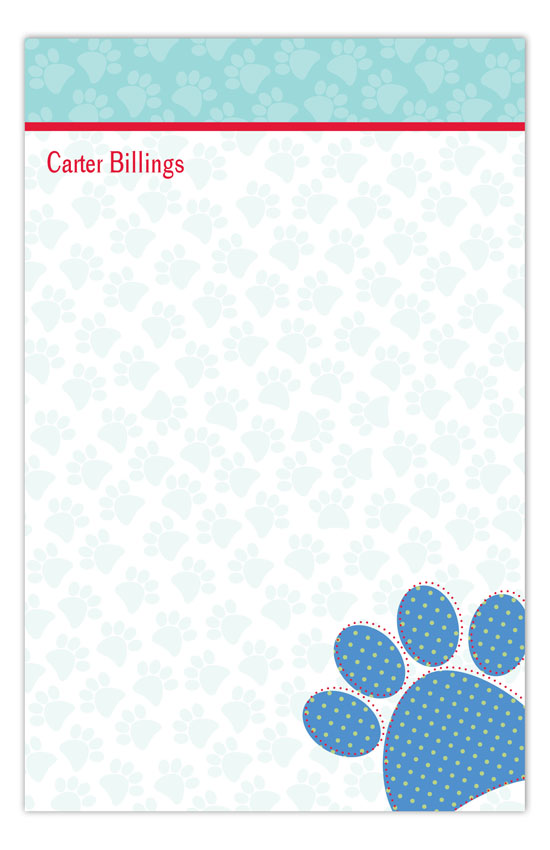 Why not help that intern celebrate the start of a new job? Polka Dot Invitations is your go-to for all things business stationery. Our monogrammed stationery is an ideal compliment to any important memo, and our calendar pads make appointment reminders a breeze! Never forget a meeting again with our one-of-a-kind personalized products.
Brown Dot Notepad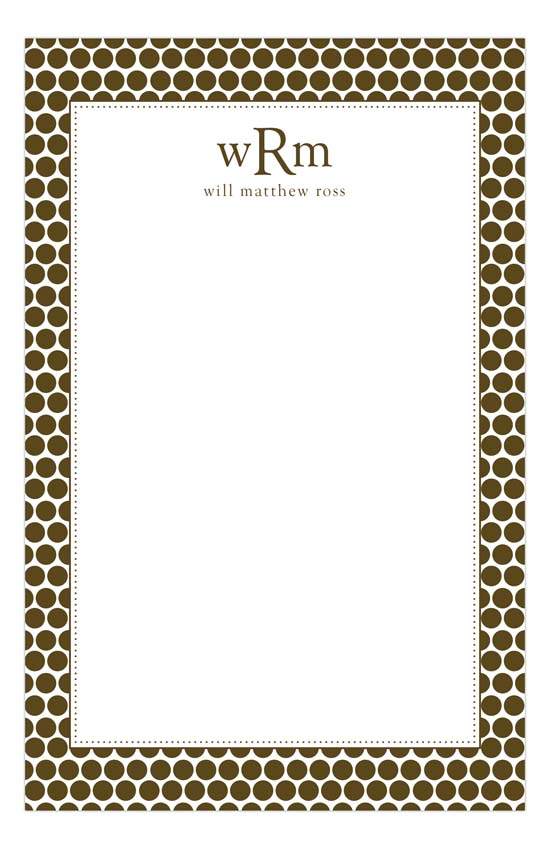 Blue Birds on a Wire Notepad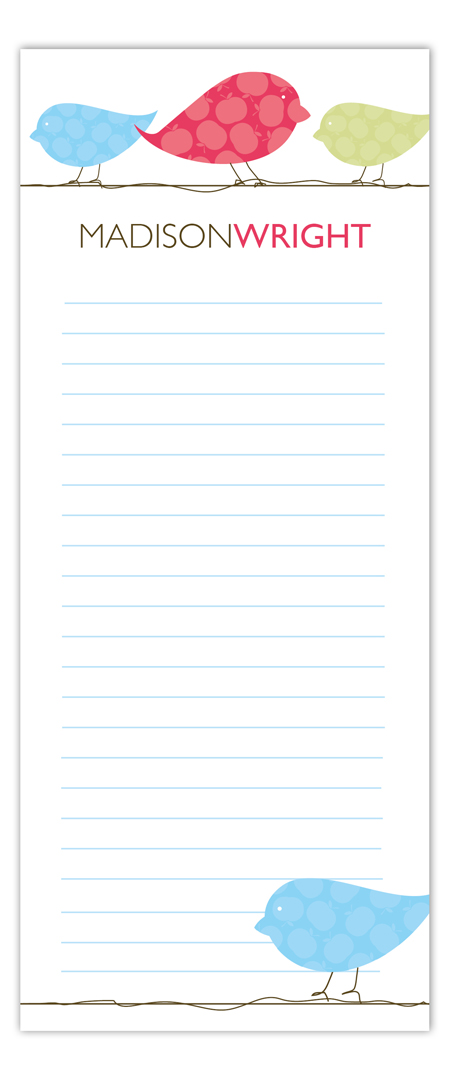 We also carry a unique collection of custom notepads that are fitting for that little note you want to leave for your loved one. Whether it's a quick thank you note for the wedding gifts, or a reminder to your kids to finish their chores before you get home, personalized notepads are a great way to add some flare into your quick notes and reminders. Stylishly fun and effortlessly cool, our personalized pads can bring joy and happiness each time your pen hits the paper.
A Note From the Bride Luxe Pad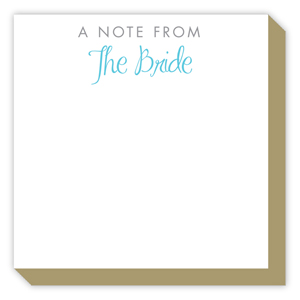 A Note From Mom Cabana Stripe Luxe Pad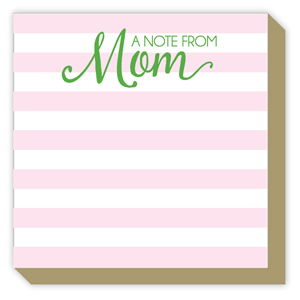 Here at Polka Dot Invitations, we offer a wide variety of personalized products to add a little bit of character and personality into the mix. Customizing an item of your choosing is as easy as just dreaming and doing. From personalizing text options to font types, even color schemes and designs—we want you to have a bit of yourself or your recipient in each product you order.